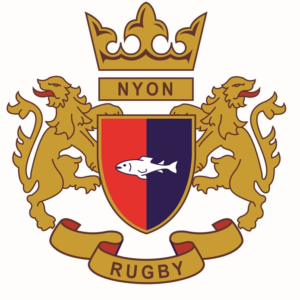 HISTORY
The club was founded in 1972. Home matches at the Colovray Sports Centre which is under the management of UEFA. The club runs two senior men's sides, a ladies team, a veteran's team and has a large junior section (U16 and U18) both playing in the national leagues.
The men's teams train on Tuesday and Thursday,  the ladies team (Mermaids) and juniors sections train on Monday and Wednesday.
Off the field, Nyon Rugby Club contributes to community life and volunteers in many local events. Since its inception, the club has run a bar at the Paelo Festival and organized an annual loto event.
The club is a member of the l'Association des Sociétés Sportives Nyonnaises (ASSN)  the Association Vaudoise de Rugby (AVR) and the Swiss Rugby Federation (FSR).
Nyon 1972-1973
Early history
Nyon started playing in the 2nd division (League National B) of the Swiss championship in 1972 and played their home matches in La Vuarpillière area of the town. In the late 1970s, the club moved down to the lakeside at Colovray for training sessions and home matches. The Colovray Sports Centre was re-developed in 1989 and since 2010 is under the management of UEFA (The Union of European Football Associations), which has its administrative center on site.
TROPHIES
Champions LNA
Champions Excellence A 2019
Champions LNF-A 2019
Champions M18 2017
Champions M18 7s 2017
WHERE TO FIND US
On the shores of lake Geneva
15 minutes from Geneva
20 minutes from Lausanne
20 minutes from Geneva Airport
Well served by public transport