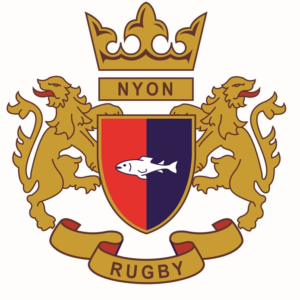 TRAINING TIMES
| | Vestiaires | Terrain 2 | Musculation | Sauna |
| --- | --- | --- | --- | --- |
| Mermaids | Lundi & Mercredi 18:30-21:00 | Lundi & Mercredi 19:00-20:30 | Mardi & Jeudi 20:00-21:30 | A la demande |
| Seniors | Mardi & Jeudi 18:30-21:30 | Mardi & Jeudi 19:00-20:30 | Mardi & Jeudi 20:00-21:30 | A la demande |
| M16-M18 | Lundi & Mercredi 18:00-20:30 | Lundi & Mercredi 18:30-20:00 | | A la demande |
| Kromanyon | Mercredi 19:30-22:00 | Mercredi 20:00-21:30 | Mardi & Jeudi 20:00-21:30 | A la demande |
TEAMS I & II
The 1st team is Swiss vice-champions 2019.
The 2nd team are Swiss champions 2019.
JUNIORS
The U16 and U18 play in the Swiss national championships.
Nyon Rugby Club's games and championships are organised by the FSR. The FSR (Fédération Suisse de Rugby) is the Governing Body of Rugby in Switzerland.
Its mission is to organize, govern, and develop the sport of rugby in Switzerland.